Our Guides
All of our lead guides are Professional Mountain guides, and all of them are KINAPA Certified Guides (Kilimanjaro National Park). This is an important aspect of guiding to ensure that your guides have the high standards required by the Kilimanjaro National Park. You should expect high standards from the guides that you trust your life and safety with, for an entire mountaineering expedition.
Is your Guide Certified?
While some guide services conduct their own in-house training, few guides have any formal, consistent and comprehensive training. Although risk can never be eliminated, proper training can help minimize it. Climbing skills alone are not enough. Guiding experience and training, as well as evaluation of guiding-specific skills, are essential to maximize competency and greatly reduce potential hazards. Most people expect formal training of a doctor or lawyer. Shouldn't you ask the same from your guide?
Our Lead Guides and Assistant Guides are Kilimanjaro Licensed Mountain Guides
Most of our lead guides are not only certified by the KINAPA, but occasionally we have very qualified local assistant mountain guides proven to be of a superb asset to expeditions. We strongly believe that having experienced professional mountain guides is extremely important for several reasons; to attract clientele from many parts of the world, due to the competitive nature, require mountain guides to adhere to increasingly higher and higher standards of mountain guiding, professionalism, and safety in the mountains. Our guides have extensive guiding experience. To ensure higher standards of safety and professional high altitude mountain guiding expertise, and to provide you with a quality mountaineering experience, we carefully choose our guides according to these standards.
Best Local Knowledge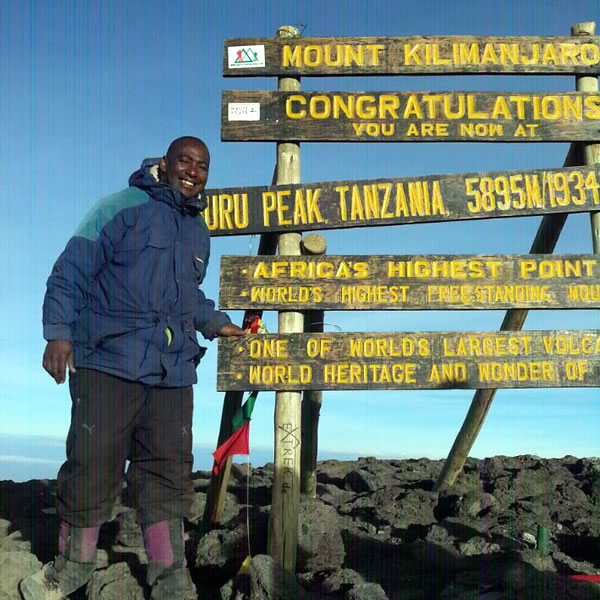 Apolnari Heriel Temu (Apollo) is a Tanzanian, born at Karansi Village, Siha District, Kilimanjaro Region. He has been climbing for more than thirteen years and he is highly experienced to lead the clients on Mount Kilimanjaro and Mount Meru. He experienced the mountaineering from the lowest stage started as normal porter and passing different level of that stage hence developed to assistant guide lastly chief guide.
Apollo did the speed climbing via Marangu Route in the year 2012. He is a professional mountain guide, with a wide range of high altitude mountaineer guiding experience. He is fully certified by WFR – Wilderness First Respond with American and European standards and brings a unique and unparalleled combination of knowledge and experience to Kilimanjaro expeditions. Apollo knows the mountain better than perhaps anyone. He is well known and well respected on the mountain. He has been on almost every face, side, and valley of Kilimanjaro. The importance of having previous local experience has been proven over and over again. We bring international guiding experience and standards when dealing with quality logistics, pre-logistics, weather, and many other aspects of the Kilimanjaro climb. After seven years of experiencing expeditions from a porter to a licensed guide on Kilimanjaro, Apollo has developed an incredible relationship with the local people, mountaineers, Park Authorities and Park Rangers. This aspect makes the MyWildAfricanAdventures team unique. Our success speaks for itself, as today we are among the most successful outfitters for Kilimanjaro expeditions.
Good Client to Guide Ration
Having a high guide-to-client ratio is essential to the success of a trip, especially on summit day, when so many variables arise and the number of guides plays a critical part in the success of an expedition. If for any reason a member needs to descend or a slower pace is required for part of the team, having multiple guides is a most powerful tool. Decisions on group management are constantly changing, especially on summit day, depending on such situations as weather, group strength, and rhythm. I have literally seen climbing groups as large as 10 people without a ratio of 1 to 2 guides! This is something that we are unable to understand; the margin for error is too high in such a situation. Safety is extremely compromised and the chance of reaching the summit is much lower.


Our Porters
MyWildAfricanAdventures completes its trips safely and successfully with our excellence team of porters. We have a core group of porters we use for many of our climbs. On all of our climbs we work to a ratio of four porters for every climber. This means none of the porters are overloaded with too much gear. It also means that you don't need to carry anything but the day's essentials from camp to camp each day, making the climb much more enjoyable. MyWildAfricanAdventures expeditions reputation on the mountain means that numerous porters want to climb for us and our core groups are all excellent, friendly and hard-working individuals.
Fair Wages on Our Team Members
By working directly with our own team of guides on the ground, we climb with rather ratio of 4:1 porters per climber without them being overloaded. We can still afford to pay our guides and porters more while charging our clients less. We know the magnitude role of our porters, how hard our porters work to make your trips safe and sound, thus we respect and take care of our crew. We provide a fair wage, ample meals, and suitable shelter for their sleeping arrangements. Our crews are a very essential part of our successful mountain trips and they are the ones that make the experience fulfilling with endless camaraderie and always a smile on each and every face We strongly believe that reasonable wages should not just be an advantage but a right that helps to stop the abuse of any sort of these men who bend over backwards to make your climb successful and memorable. By climbing with us, you are already making a difference. If you want to help out or want to know what else you can do to help, kindly get in touch.